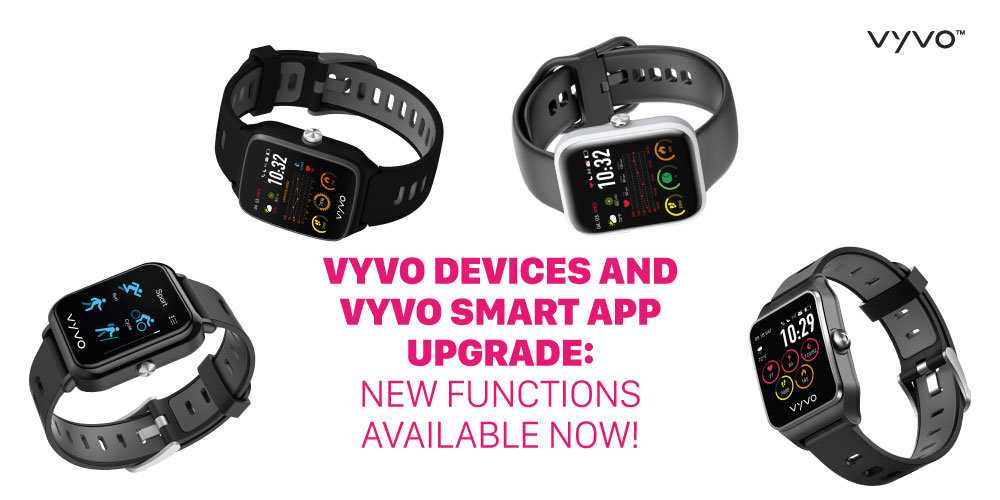 VYVO Devices and VYVO Smart App upgrade: new functions available now!
The VYVO device universe today takes an important leap in regards to improvements and expansion of features, thanks to an extraordinary firmware update release, as well as a new App version. The latest updates address technical adjustments, optimization, and general improvements in performance as well as including some significant new functions.
1. Guardian and SOS for VISTA PLUS and WATCH LITE EDITION
Thanks to this firmware and app release, it is now possible to set and receive the Guardian notifications. Simply set the limits of your bioparameters on the VYVO Smart App and receive the alerts when the measurements exceed these limits. Thanks to Guardian, you can receive notifications for Blood Pressure, Heart rate, Breath rate, Atrial Fibrillation, and Fall detection.
Moreover, with the SOS function, you can send assistance requests to your emergency contacts. Set the list of your contacts inside the VYVO Smart App and activate the SOS on your watch: Push and hold the power button, select the SOS option, and tap on Send SOS.
A message will be sent to your emergency contacts, including your last known position, and on your watch, you will receive a confirmation message after it's sent.
An essential improvement in the release of these two functions is the ability to elevate the performance and the daily utility of your device.
Download the tutorial to understand how to set up these new functions.
2. SpO2 monitor for WATCH LITE EDITION
The update just released also contains another notable improvement dedicated exclusively to Watch Lite Edition. From today, all owners of this device are able to check and monitor their Oxygen saturation.
Oxygen saturation (SpO2) is a measurement of how much oxygen your blood is carrying as a percentage of the maximum it could carry. For a healthy individual, the normal SpO2 should be between 96% to 104%.
Clearly, the release of this function enriches the possibility to set the Guardian feature also to receive and send alerts related to the variations of SpO2.
3. BIAN QUE'S PULSE WAVE DIAGNOSTIC for Android App
For all Android users, the upgrade app now includes the BIAN QUE'S PULSE WAVE DIAGNOSTIC. Thanks to this function, it is possible to check the continuous status of some of your organs, and the analysis can assist you in understanding how to improve your daily lifestyle and live a healthier life.
This feature is based on a unique diagnostic approach of Traditional Chinese Medicine, the examination of twelve meridians: a method to choose an emerging or relatively emerging pulsating vessel that is exemplifying or easy to inspect, among the twelve meridians and the Bian Que's exclusive pulse examination of the inch opening (wrist pulse).
Note: This function is available only on the Android App and is compatible with the following devices: VYVO SENSE – VYVO VISTA – VYVO ICON – VYVO VISTA PLUS and VYVO WATCH LITE EDITION.
Read More about the BIAN QUE'S PULSE WAVE DIAGNOSTIC
A wonderful day for VYVO Technology!
All these updates are providing you with an important set of new functions and reports that enrich and complete the functionality of your devices.
Continue to follow us on all official VYVO communications channels to receive updates and new information.
---
Upgrade Instructions
Please follow these instructions to upgrade your experience:
• Update or Download the most updated version of the VYVO Smart App from the Official Stores (Google Play, Apple App Store, or VYVO App Store).
• Login and connect your device.
• An automatic alert will inform you about the availability of new firmware (Only for WATCH LITE EDITION and VISTA PLUS). In the case, it does not show up, you can always access the device menu, then reach the firmware upgrade section and start the update from there.
You are now all set to enjoy this enhanced VYVO experience!
Please note: Ensure that both your phone and the device's battery power is not lower than 50% before starting the firmware update, and make sure to keep your smartwatch close to your phone. Do not exit the upgrade page before the transfers have finalized, and the update has been completed successfully.
Firmware Release details:
VYVO WATCH LITE EDITION Firmware version: 6.0.16.20
VYVO VISTA PLUS Firmware version: 4.2.16.29
VYVO Smart App:
– Android version 1.0.1.104
– iOS version 1.7.0 (207)