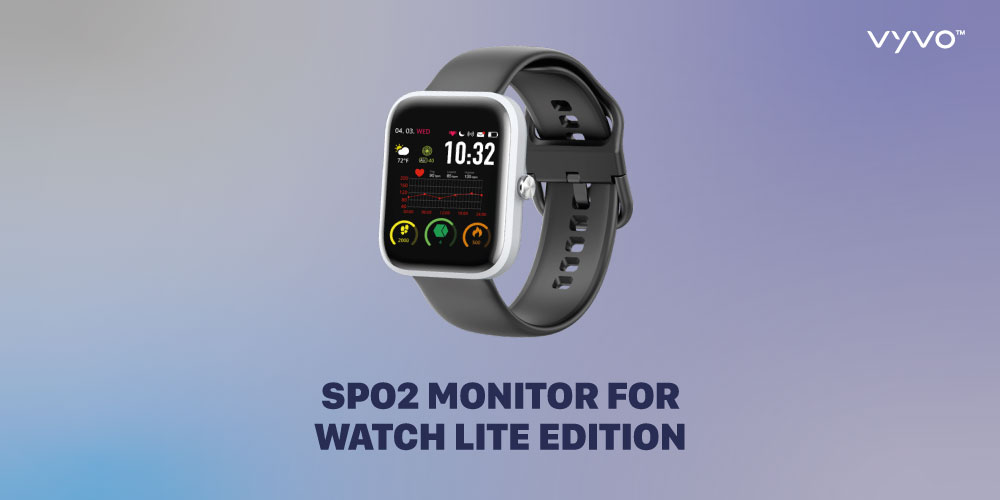 SpO2 monitor for WATCH LITE EDITION
The App and Firmware update just released, contains a notable improvement dedicated exclusively to Watch Lite Edition.
All owners of this device are able to check and monitor their Blood Oxygen saturation.
Oxygen saturation (SpO2) is a measurement of how much oxygen your blood is carrying as a percentage of the maximum it could carry.
These parameters are also useful to individuate and monitor the effectiveness of breathing and lungs functioning.
Especially at this moment, the Saturation measurement is a really powerful tool for your device and can increase the diffusion and the application of Watch LE.
Clearly, the release of this function enriches the possibility to set the Guardian feature also to receive and send alerts related to the variations of SpO2.
Upgrade Instructions
Please follow these instructions to upgrade your experience:
• Update or Download the most updated version of the VYVO Smart App from the Official Stores (Google Play, Apple App Store, or VYVO App Store).
• Login and connect your device.
• An automatic alert will inform you about the availability of new firmware. In case it does not show up, you can always access the device menu, then reach the firmware upgrade section and start the update from there.
Please note: Ensure that both your phone and the device's battery power is not lower than 50% before starting the firmware update, and make sure to keep your smartwatch close to your phone. Do not exit the upgrade page before the transfers have finalized, and the update has been completed successfully.
You are now all set to enjoy this enhanced VYVO experience!
Firmware Release details: VYVO WATCH LITE EDITION Firmware version: 6.0.16.20
VYVO Smart App:
– Android version 1.0.1.104
– iOS version 1.7.0 (207)