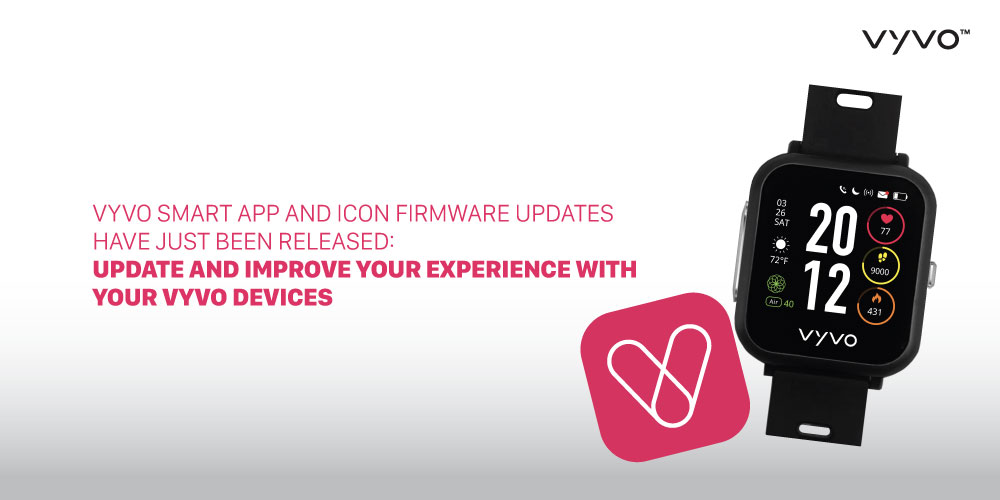 VYVO Smart App and ICON firmware updates have just been released: Update and improve your experience with your VYVO devices
Updates to VYVO Smart App and ICON's device firmware are the latest updates made available with additional functions released for ICON, as initially scheduled in the official VYVO Smart roadmap, announced a few weeks ago by our CEO and President Mr. Fabio Galdi.
In the VYVO Smart update for all devices, the release addresses bugs, fixes, and improvements in performance, which are vital for you to properly perform them, for you to get the most out of your device's wonderful features.
New languages and Air Quality suggestions made available in this release will grant you an improved experience.
The most important feature added for ICON with the firmware update is the Atrial Fibrillation detection. We use the measuring PPG technology of ICON, with high-frequency sampling to collect an accurate pulse waveform, which then is subject to detailed data analysis and processing using medical algorithms to identify potential atrial fibrillations.
Please follow these instructions to upgrade your experience:
Update or Download your VYVO Smart App from the Official Stores (Google Play, Apple App Store, or VYVO App Store) to receive the latest version available.
Login and connect your device.
An automatic alert will inform you about the availability of new firmware (Only for ICON); In the case, it does not show up, you can always access the device menu, then reach the firmware upgrade section and start the update from there.
Please note: Ensure that both your phone and the device's battery power is not lower than 50% before starting the firmware update, and make sure to keep your smartwatch close to your phone. Do not exit the upgrade page before the transfers have finalized and the update has been completed successfully.
You are now all set to enjoy this improved VYVO experience!
Continue to follow us on all official VYVO communications channels to receive updates and new information.
Release details:
---
VYVO Smart App:
– Android version 1.0.1.35
– iOS version 1.0.5(56)
VYVO ICON Firmware version: 1.0.16.26